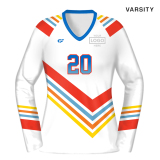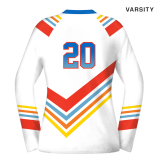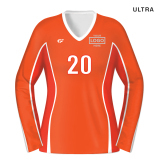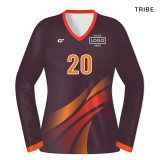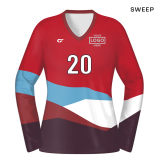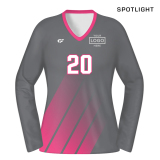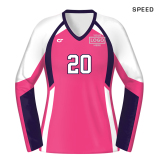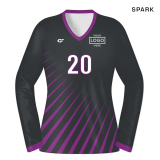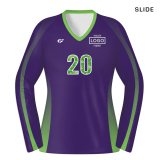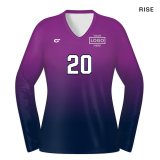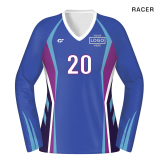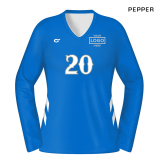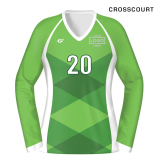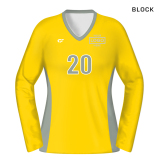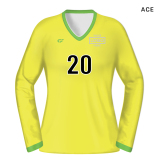 x
Email a Friend
Bookmark this page
CustomFuze Women's Sublimated Premier Series Long Sleeve Jersey
Buy 24 or more for
$55.95
each
Buy 72 or more for
$53.95
each
Fastest Production Times
X
Guaranteed availability for YS-4XL
Fully decorated for one price
Unlimited color and design options
X
FIT TIP:
Runs small. We recommend sizing up.
Learn More
Start Customizing
GEAR YOU LOVE. GUARANTEED BY GAME DAY.
In these unpredictable times, having a reliable partner means more than ever. With over two decades of experience servicing the volleyball community, we are on a mission to bring you the best products and solutions the volleyball world has ever seen through our exclusive apparel brand.
Industry Experts
Your dedicated team expert will guide you through the entire ordering process & will be there if unforseen issues arise.
Solving Problems
We control the supply chain so we can guarantee availability, low minimums, industry-best production speeds and a 1 year warranty.
Performance Promise
Any CustomFuze item that doesn't ship on time receives a 15% discount. We'll also overnight numbered jerseys if needed to ensure you can play on game day.
Description
Details
4-way stretch premium polyester/spandex fabric.
Available in sizes: YS, YM, YL, XS, S, M, L, XL, XXL, 3XL, 4XL
Player names cost an additional $5.25 per jersey.
6 piece minimum order, no minimum on reorders.
Libero option available for same price.
Imported
Order Process
Design your jersey or fanwear with our easy-to-use online builder and start the order process by uploading your roster and requesting a quote directly from the tool!
Or you can email team@allvolleyball.com with your design id, billing/shipping information and roster to get started.
We'll email an order acknowledgement and proof for approval.
You must review the order/roster, proof for accuracy, and approve for production.
All information on the order/roster and proof will be considered correct after approval is received.
We will acknowledge receipt of the approval and confirm shipping time.
Production and ship time begins on the next business day after order/roster and artwork is approved.
No changes to the order/roster or proof can be made after approval. (any changes have to be submitted as a new order)
Standard shipping is typically 1-3 business days following production time. Expedited shipping is unavailable.
Once you receive your shipment, you have 5 business days to alert us of any shortages or discrepancies.
Sizing Chart
| Size | YS | YM | YL | XS | S | M | L | XL | XXL | 3XL | 4XL |
| --- | --- | --- | --- | --- | --- | --- | --- | --- | --- | --- | --- |
| CHEST | 29 in. | 30 in. | 31 in. | 32 in. | 33 in. | 34 in. | 36 in. | 38 in. | 40 in. | 42 in. | 44 in. |
| WAIST | 27 in. | 28 in. | 29 in. | 30 in. | 31 in. | 32 in. | 34 in. | 35 in. | 36 in. | 37 in. | 38 in. |
| BODY LENGTH | 23 3/4 in. | 24 1/2 in. | 25 1/4 in. | 26 in. | 26 3/4 in. | 27 1/2 in. | 28 1/4 in. | 29 in. | 29 3/4 in. | 30 1/2 in. | 31 in. |
Runs small. We recommend sizing up.
Reviews
By Lori
Delivery Time:
Right On Time
Girls loved them
Very easy to decorate the jerseys using the decoration tool and the girls loved having something different that stood out at tournaments.
By Sue
Delivery Time:
Before Expected
Easy to order
I was able to customize my jersey online and get an immediate mock-up. The next day I got a call from All Volleyball and that day our order was placed. I was shocked at how easy and quick this process was compared to years past. Very happy customer!
By Mary
Delivery Time:
Before Expected
Wow!
These jerseys do run a bit small, but love, love, love them! The decoration tool was extremely helpul and fun. Some of our players got to participate. Delievery was super fast. Great experience all around. Highly recommend.
Team Member: So happy to hear!
By CoachG74
Delivery Time:
Right On Time
Great for our club
Our whole club was able to get the same jerseys for the first time. We have 6 teams and have girls that need youth sizes and girls that need 3x and normally have to go with different jerseys for the 12/13's and our 16/17s. The girls liked the custom design and it made my life easier this season. Would recommenced to any small club like ours. **4 stars only because jerseys ran a little small (even though I knew this going in because of the samples).
Team Member: Thanks for the feedback! We are always looking to improve our fit. We will be reaching out via email and would appreciate any further feedback!
By Jennifer
Delivery Time:
Right On Time
Impressed
The only sublimated jersey's that I could find that didnt take forever. Wanted to go with UA but would have been 8 weeks, was told the same thing by multiple vendors. So far so good, jersey's look great on the girls and everyone seems to be very happy.
Excellent Service
I own one of the largest clubs in Oklahoma, but also help out with small local teams. We get the same experience regardless of our size. Orders are on time, every time and if there's ever a problem they fix it fast.
By Amy
Delivery Time:
Right On Time
Jersey's
The ordering process is very simple, especially since it's done with a representative. Your customer service/sales operators are top notch, and the product backs up the people.
By N/A
Delivery Time:
Right On Time
Overall happy
A couple of the jerseys got a hole in them after a few wears. Anyone who orders needs to order at least a size up. Other than that they we were very satisfied.
Team Member: Thanks for your feedback on sizing! We are working hard to improve our fit. All jersey's have a 1 year warranty that we stand firm behind. We will reach out and ask for a few pictures and then we would be happy to get new jersey's shipped out.
By Lindsey
Delivery Time:
Right On Time
Quality
Jerseys held up well, good fit and the ordering process was smooth.
By Sarah
Delivery Time:
Right On Time
Runs small
Like the jersey. Fit seemed a little small but overall very satisfied
By Jamie
Delivery Time:
Right On Time
looks great
Designing the jerseys was a very simple process and lots of fun. It would have been nice to know that their jerseys ran small. It seems like the few jerseys we have had problems with is due to the size. However, we always get lots of compliments on our jerseys.
By Scott
Delivery Time:
Right On Time
Great service, color not what i expected
While the quality was great, and the service has overall been fantastic, I was disappointed that despite providing comparisons to colors that are available from other sellers, the color wasn't anything like what we requested. Everything else was great.
Team Member: We always appreciate your honest feedback. We will be in touch in order to get this fixed for next club season.