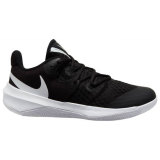 x
Email a Friend
Bookmark this page
Nike Men's HyperSpeed Court
Volleyball Shoe HQ
Welcome to Your Shoe Headquarters - find your perfect shoe and take control of your game.
We have best assortment of volleyball shoes for every level of play, in-stock and ready to ship.
Industry Experts
Tap into over two decades of our experience servicing the volleyball community
In Stock
Over 10,000 pairs of shoes in our warehouse, ready to ship today
Low Prices
The right shoes at the right price so you can get back to winning your day
Description
Forefoot Stability - Provides for quick multi-directional movement
Midfoot Support - Control movement and harness energy when jumping and landing
Durability - Enhanced forefoot materials just where you need them most
Lightweight
Breathable
NikeSkin overlay
Tight around ankle
Tongueless
Cushioning under toes
Rubber sole
Reviews
Best price found
It is hard to find the right size available anywhere. The process was easy, fast delivery and great price.
Shipping
This item is stocked at our St. Louis, MO facility.
Stocked items/orders placed before 1pm CST are shipped that day (business days only, Mon-Fri.).
Stocked items/orders placed after 1pm CST ship the next business day (Mon-Fri., no holidays).
Standard average delivery time is between 1-3 days (see map below for delivery estimates).
We will notify you via email within 1 business day if there is any expected delay.
If there are non-stocked items on your order those will be shipped separate from your stocked items at no additional cost.
Team orders and orders paid with PO's may take additional processing days (between 3-5 business days).
Printing requires additional processing days. Please visit our Uniform Printing page.
For more information please visit our Shipping page and our Shipping Practices page.