Exclusive programs build specifically for your volleyball team order.
Select a tab to learn more.
Forever Pricing Program
How's our very best pricing, free shipping and additional discounts? We are simplifying the buying experience to provide more value than any other company in our industry.
Game Day Guarantee
We guarantee you'll have your team gear by game day. We're so confident we'll put our money where our mouth is.
Libero Rule Guarantee
We focus solely on volleyball (it's all we do) so our team sales group has an expert understanding of the rules and will work with you to make sure your libero jersey is 100% compliant. If not, we'll replace your libero jerseys for free. Guaranteed.
Make Appointment
We work hard at building tools, programs and pricing to offer more value than any other team dealer in our industry. Schedule an appointment now so we can show you how! We'll respond no later than one business day.
Online Ordering
Need help placing your volleyball team order online? You've come to the right place. Check out this page for videos and step-by-step instructions!
Pay By Check
Need to break up your payments or prefer to pay by check? We've got a simple and secure solution. Talk to your team sales rep for more information or before making a payment.
Player Discounts
If we're doing business with your team, school or club we want to be doing business with the players (parents) too! Make an appointment with a team sales rep to learn more about our Player Discount Program!
$5 off orders $50+ OR $10 off orders $100+
*unlimited useage!
Request Quote
Request a quote for all your team needs. We'll get back to you within 24 hours Monday-Friday.
Samples Program
Our Samples Program allows you to see samples of the garments you like and allows the players the opportunity to try on the items to ensure a perfect fit at no cost to you.
Team Packages
We've got the best selection of volleyball team packages at the lowest prices. Find your package or make an appointment with a sales rep to build your own!
Team & Spirit Stores
Team and Spirit stores are the quickest and easiest way to manage all your apparel needs. Empower your players & parents, fundraise, save time, save money. Win Big. Find out how both can work for you.
Team Shoes
Exchange 1 pair or 100. We cover the shipping both ways. Plus free shipping!
Team Shirts
Looking for 20 or 20,000 volleyabll practice or camp shirts? We've got your back!
Uniform Personalization
Check out all of our decorating and pricing options. Plus personalize your gear online.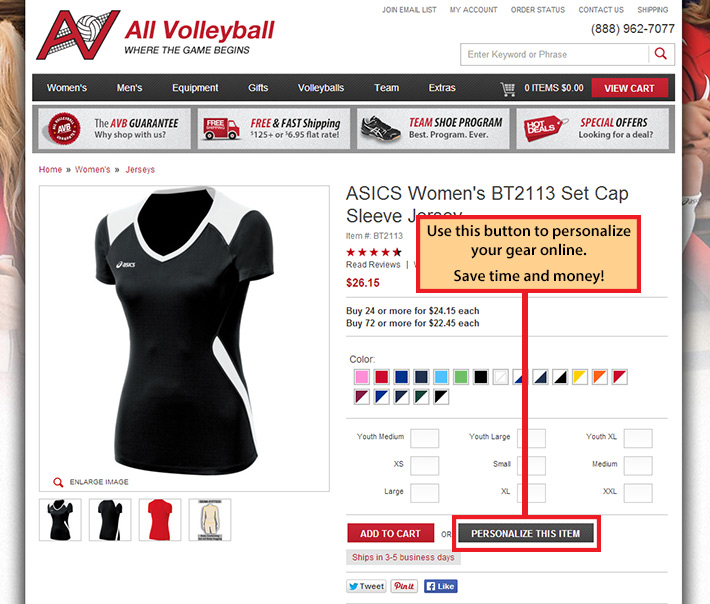 Vendor Deals
Check out our vendor deals. Some are exclusive and some won't last. Don't miss out!
Got more questions? We've got answers. Visit our FAQ page!